I currently live in Hamilton. My wife and I have a lawn care business that we work 20 hours a week. We share our home with a German Shepard called Thor.
Having a lawn care business has allowed me to be self-employed my entire working life. It has paid for our home and allowed us to cut down our working week in half and still have a turnover that puts us in the top few lawn care businesses in town. Our phone is always ringing, and we now sell all the leads we dont want. We only take on high paying easy work that suits us.
If you want to build a business like this, then read my blog, and it tells you what I did. I always intended to write a book about this after I had quit the industry. I did not want any local businesses to know what I was doing to grow so fast but I enjoy writing far too much to wait anymore. It doesn't matter now as I expect I will exit the industry entirely by 2023.
In this blog, I try to deal with the general principles of running a successful lawn care business regardless of where in the world you are. The licensing, laws and taxes may be different but the mechanics remain the same. You will need to know your legal requirements and I will teach you what you need to know to grow your business. If I had found a blog like this in my twenties I would probably have got to where I am a lot sooner.
Early days
I started my first lawn care business on the Hibiscus Coast (just out of Auckland)  in 1987. Things were simple then. I just made some flyers and put them in letterboxes, and the phone started ringing. I did not have much in the way of gear. I had an old junkie mower and a line trimmer. Using my faithful station wagon and I carried my tools in the back. All my customers had a place to dump the grass, so I didn't have to take anything away.
I started advertising in the paper, and the calls still kept coming in. The flyers were still going strong as I was getting around three leads every hundred flyers. This was great and my business grew quickly. Don't go rushing out trying that now, as the last time I tried the response rate was 1 in 500. I haven't bothered doing that in a long time now.
When I was working around 20 hours a week, I did a deal with the local lawn mowing shop. I bought a new mower and gave them three checks, each for a third of the mower cost. The first one was due that day, and the other two I postdated for one and two months time. This agreement worked really well, and I ended up doing this a few times when I needed new gear.
I also came across a way of building my business faster than any other guy in town without spending any money. The other contractors noticed my business growing but had no idea what I was doing. As far as they knew I had a small ad in the newspaper and that was it. I had a secret weapon even back then, and this is the first time I have written about it.
How I supercharged the growth of my lawn care business.
A typical work day for me when I started was first to go out and do all the work booked for that day. I was usually home by lunchtime, and now it was time to grow my business. I wouldn't say anybody can do this next step, but I was determined to succeed back then. I would go home and pull out the phone book. I went to the white pages I started at "A." I made call after call. I wasn't pushy when I asked my script went something like this.
"Hi, my name is Stuart, and I'm just ringing around to see if anybody would like a free quote on lawn mowing?". If they weren't sure what I meant, then I would expand with "I'm a lawn care contractor." I would then quietly wait for a response. If they said yes they wanted a quote, then I would confirm the address book them for the next day. I could do around 20-30 calls an hour and I originally got a quote every 35 calls on average.
I worked a 40 hour week from day one and less than three months in I was working a 40 hour week. I was happy just running this business and making an income for a year or so, but then I became restless.
Now I had a new problem.
I had too many lawns.
I liked mowing lawns but what I really enjoyed was building the business. I loved getting the calls coming in and rushing out with a tow truck driver mindset. I wanted to do the quote, get the lawn. Book a reoccurring cut and move onto the next quote. However, there was one major problem. When I filled up with yards and didn't have any time left to quote. I could not build my business anymore. I then became a lawn care guy. I wasn't happy. I had no plans of expansion at the time so I started asking around among the contractors that I knew to see if anyone wanted any lawns. I tried to give away the lowest twenty lawn contracts so I could build again. Then something happened that I had not considered. I meet a guy who wanted to buy the lawns of me. I couldn't believe it. He wanted to pay me for lawn mowing contracts. I sold the lawns on the condition that I could still work the area. I agreed not to approach or do any work for the customers I had sold, and I carried on.
How long does it take to mow a lawn and are you making money?
So began the next stage of my business. It was time to get serious. I started timing all my lawns, and I developed a formula that gave me the actual hourly rate of my lawns. I also timed my travel between jobs for three months to provide me with an idea of real travel time. My formula went something like this.
Take the amount you want to earn in an 8 hour day.
Take the time you spend on the lawn.
add the travel time.
take 8 hours and divide it by the time from step three.
Now you have a real hourly rate for the lawn.
The good thing about this system is it puts all the lawns on an even playing field. It assumes you are doing the same job all day and shows how you would do. If you don't use the whole picture and focus on an hourly rate, you will end up overcharging the larger lawns and under pricing the smaller lawns. If you want this formula in an excel sheet, contact me, and I will send that through to you.
The business of building and selling lawn care rounds.
Once I had these times worked out it became easy to see which lawns I needed to price increase or sell. In New Zealand, we can work all year round, so we are lucky there. Most areas here do not get snow. Usually, in the winter the lawns would move from a two weekly mow to a three or four weekly cut. Most of the local lawn care contractors would advertise for tree work, hedges and other things to keep them going.
Not me I would keep on advertising for regular lawns. I would get even more leads in the winter because none of the other guys would be advertising. I Would build up to a 40 hour work week again in winter. This would mean when spring came and they all went from 3-4 week to 2-week lawns I would suddenly have a 60 hour work week. I didn't want to work this hard, so I would advertise my lowest paying lawns a month before Spring. That also happens to be a time of year that you get top dollar for lawn rounds. I would sell a lawn around and have their start date on the first week of Spring. I would be working a 40 hour week the sell 33% of the lower paying lawns get a lump sum and then go straight back to a 40 hour week. I actually used to sell a little bit more than that as I liked to start Spring with 30 hours worth of lawns. I would sell another smaller round in Summer and possibly one in Autumn. I was content as I still got to build.
My first attempt at employing someone.
After doing this for around ten years, things started getting a bit tricky. In the area I lived we had a population of 10,000 back then, and I had probably turned over 10-12% of my local market so I was starting to get lots of calls from old customers which I would have to decline. I decided that I would keep the lawns I got and try to grow my business. I started traveling half an hour away every other day to open up a new market in Auckland's North Shore. I employed my first worker and put him out with a van and trailer. I felt everything was going great then one day I discovered the actual realities of hiring someone. I remember driving down a road in the North Shore on a Saturday, and I saw my van out working. Usually, this made me feel good, but I felt sick to my stomach that day as he was not meant to be working. The van and trailer were supposed to be parked up at his place. We had no work booked that day.
I started talking to customers and found out that he had been doing plenty of work for them after hours. He was using my tools wearing a company uniform and accepting cash. I had to let him go, and I sold his round. I learned a lesson. After that, if I ever had a worker take a vehicle home, he would have to leave all the equipment in my garage.
Moving to Hamilton
Around 1999 I met a girl from Hamilton. I fell in love, sold my business and shifted to Hamilton. We married in 2010.
The great thing about being self-employed with a lawn care business is you can start again anywhere as long as there is grass that grows you have a job.
I went back to telemarketing to build my business again. Using the phone, quote and book method I was able to be working full time again in a few months. I soon fell back into the habit of building and selling lawn rounds. My wife worked that business with me which allowed us to grow more and run a more extensive business. We have always run separate vehicles as we get through the work 30% faster solo. It's also nice having your van set up the way you like it.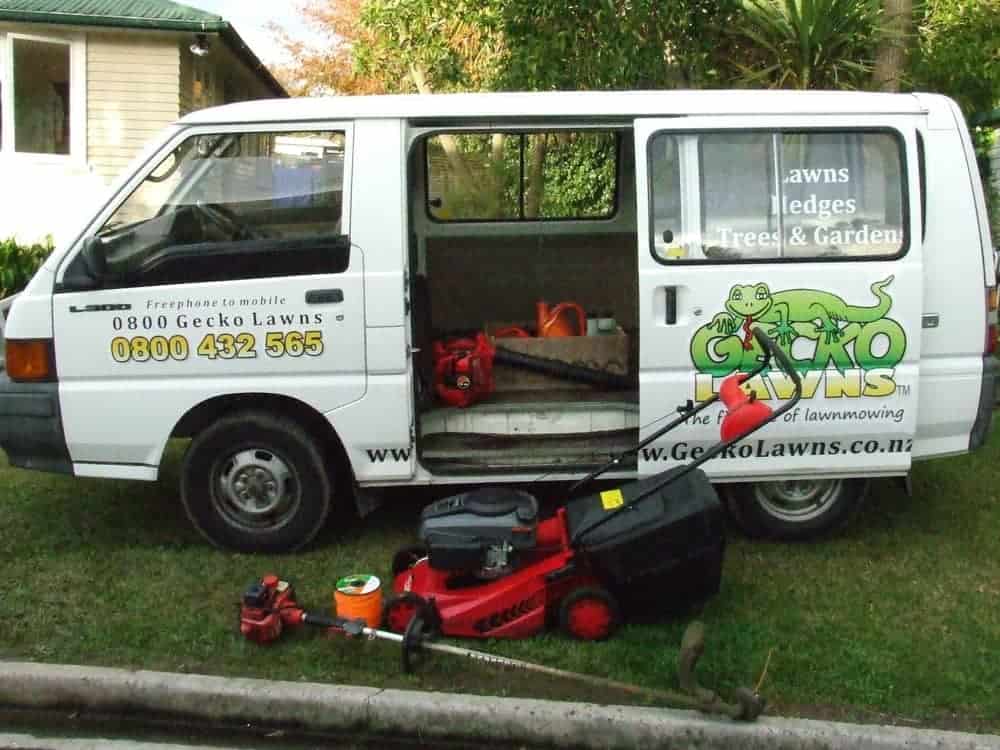 Our second attempt to expand.
In 2007 we decided to stop selling lawns and build the business. We changed our name to "Gecko Lawns" and started to grow the business. The object was to put a vehicle on the road every year, but it took us a while to get it right. When we first started taking more work, we initially farmed out extra work out to subcontractors. We tried this for a couple of years but it never really worked out. We had issues with quality control, lack of branding and it was hard to tell other lawn mowing businesses how that should be doing their job when subcontracting for us. There was a lot of bad feeling, and it was hard to control. We sold those lawns and tried again.
The next time we tried setting up a new lawn care business that was owner-operated under the "Gecko Lawns" umbrella. We had moderate success with this. The first owner-operator ran for over a year before we ran into issues with the future direction of the business. We ended up giving the owner-operator the lawns they already had, and they changed the name. No great loss suffered on either side as we had covered this possibility with a clause in our agreement. We are still on good terms when we meet today.
We tried again and this time bought on a husband a wife team. We trained them up for a month, and then they worked another two weeks before deciding not to continue. We were really disappointed as they told us they had changed their mind on a Sunday. We were getting married that Tuesday. I worked on the morning of our wedding, and we canceled the honeymoon. We decided not to set up any more owner-operators under our brand. We continued building and selling lawn care rounds.
Third time lucky. Sucess
The next step was to set up vans without trailers and put employees into them. After a few teething problems this worked out well. We put five vehicles on the road in the next five years. We made good money and got to a point where we did not have to do a lot of lawns ourselves. We had finally had a system that worked.
The only real issue now was me. I had now been doing this for over thirty years, and I did not want to spend the next five years doubling the size of the business. I was tired of my house feeling like a train station every morning. I was tired of working with employees. If I had done this ten years earlier, it probably wouldn't have worried me so much. Now we were both 50 plus and wanted a change of direction. We decided to keep a small round for income and do other things. We gave notice to our employees and sold over 350 lawns over the next six months to four different buyers. We kept the name. One of the buyers bought one of our vans and offered the driver a job doing the same lawns. That was indeed the easiest sale that I have ever had to arrange.
We still wave to local people who have bought businesses off us. Some have become good friends. We have even helped some of them resell their businesses after a year or two. We have a reputation as one of the top lawn care companies in Hamilton, and I'm happy with that. Check out our 100% five-star reviews on Google (we have the same amount of five-star reviews with the yellow pages). You don't get reviews like that by accident.
We still do a 20 hour work week, and I keep my hand in helping lawn contractors package and sell their business. I also help evaluate lawn care businesses for buyers.
These days I get a lot more enjoyment writing about mowing lawns then actually mowing them.
Stuart Clifford