The Pros and Cons of Using a Robotic Lawn Mower
Table of Contents
Who is this post written for?
We will be looking at using a robotic mower for home use as well as lawn care business operators I will discuss the pros and cons for each in this article.
As a lawn care business owner, I have noticed that robotic mowers have become more common over the last few years. The only real downside at the moment is the setup cost and battery life. 
We all know that electricity is environmentally friendly and we get the warm fuzzies when thinking about doing our bit to save the planet there have been a couple of good reasons not to go batteries powered. At least on a commercial basis anyway. 
The two main reasons for a slow commercial uptake were.
Robotic mowers have their own charging stations and are designed to run without an operator and this makes them a lot more attractive to the lawn care industry.
The only real barrier left (commercially at least) is price, and the prices are doping.
Seeing this has made me start looking at the possible uses of robotic mowers in domestic or commercial situations.
How long has the robot lawn mower been around?
Robotic mowers have been around since 1995. The first robotic mower on the market was made by Husqvarna and is called the solar mower. It was electric, automated and solar. You can check that out in the video below.
Today they have docking stations and larger batteries so when they get low they simply head back home to recharge.
Robotic mowers are just starting to catch on in America but they have been popular in Europe where the market has been steadily growing by around 20% per year since 2012.
Pros and Cons of Using a Robotic Mower?
A robotic mower is a small mulch mower that moves in a random pattern within a pre-programmed area. It does not need to catch the grass because it will trim the grass a little at a time on a regular basis. Doing this means that you will not get visible grass clippings left and it will keep your lawn tidy. It will quietly work away at around 60-70Db and you will be able to have your mower work anywhere between 2-5 hours a day depending on the size of your lawn.
How a robotic lawnmower can benefit your lawn
In theory, you should get a better quality lawn with a robotic lawnmower as they will do a lot of things that your domestic or commercial mower will not. Some of the major benefits are listed below
No visible cut pattern – Because the mower is continuously changing directions you will never get a pattern showing. Robotic mowers mow in random patterns. Doing this is actually the best way to mow a lawn, but it cannot be done by hand as it would be counterproductive as it would require running over areas you have already done so it would take hours. Anyone mowing a lawn by hand usually takes the path of least resistance. This can eventually leave tracks, especially on an odd-shaped lawn.
No soil compaction – A traditional mower weighs a lot more than a robot mower so it tends to compress the soil over time. This means that it can need aeration every now and then to keep it in good condition. Grass does not grow as well in compressed soil. If you use a robotic lawn mower it greatly reduces the need to aerate a lawn.
Diseases – As a robotic mower is constantly travelling around all parts of the lawn are mowed on a regular basis. This greatly reduces the chances of diseases as the lawn is healthy and in optimum growing condition.
Mulching – This is extremely healthy for a lawn but not always practical. The usual method of mulching involves cutting the lawn on a weekly or biweekly basis. This is not the best way to mulch as the grass is longer and does not mulch as well. It may tend to clump or mulch unevenly. Using a robotic mower will eliminate this problem by giving a light cut daily. The fine bits of mulch this produces will fall back into the lawn, therefore, feeding it and promoting healthy growth.
Weeds – A lawn left too long or cut too short can develop weeds. When a lawn is cut daily at a set height this discourages weeds as this is not a good environment for them. Also, your mower can get stuck if it is not run on a regular basis and the lawn gets too overgrown. The photo below was taken by a friend of mine when he reduced a robot mower using his battrie-powered mower.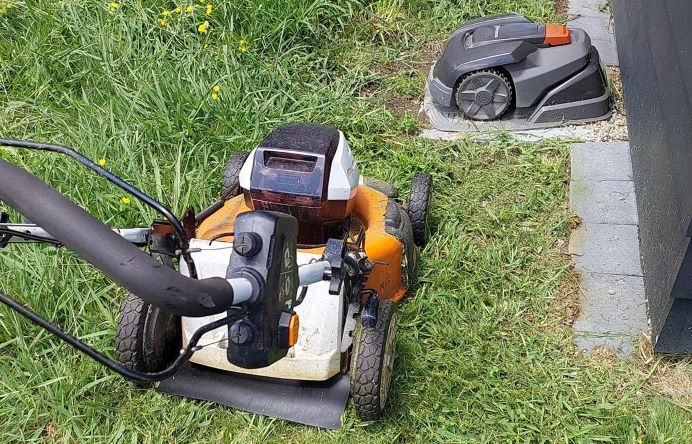 Giving instructions to your robotic mower using an App
You can use a smartphone app to control things on your mower and it will also inform you if there are any issues. Having this kind of control while you are not home gives you more options. For example, if a storm is coming you can send your mower back to the charging base. Therefore reducing the risk of damage.
There are quite a few things you can adjust with the app but the main ones are
Adjusting the cutting height
Modifying or changing the Schedule
Setting your mower not to mow an area
Sending you mower back to base.
How much does a robotic lawn mower cost?
When robotic mowers first came onto the market, they were quite expensive. As time has gone on, they have dropped in price a bit, but I still feel they have a way to go before they become a practical option for a lawn care company.
The most quality robotic mower will range in price from $2000 to $4000 dollars. This makes it quite a significant initial investment for anyone going ahead with a purchase. This could work out well for homeowners but not so much for lawn care operators.
For a private homeowner getting an entry-level could solve all their lawn care issues and end up saving them money. The edges will still need to be done on a regular basis so it is not going to solve all the problems but it will help. If you were going to pay someone to mow your lawn with a conventional mower around 20 times a year at $35 per visit you would be spending around $700 a year. If you were to get 10 years out of your mower you could save over $5000 over the life of the mower.
I will cover the financial considerations of setting up robotic mowers for a lawn care business at the end of this article where we will dive deeper into that subject.
How to set up a robotic mower.
When you get your new mower, it may have wire supplied with the machine, or you may have to purchase it severally. This boundary wire will now need to be set up around the circumference of the mowing area. You will also need to put it around anything like flower beds or any other area where you do not want the robot lawnmower to go.
Normally the wire is buried but it is possible to staple the wire on top of the grass provided you have cut the grass in that area short before you started. This can save you a huge amount of time with setup. The wire will also disappear from view over time as the grass grows over it.
You will still probably need to allow somewhere between two to six hours to set everything up depending on the method you use and the difficulty of the yard. The good news is that you only need to set it up once. 
There are other ways of setting the lawn mowing area apart from wire but these tend to only be available on the more expensive machines.
These methods can include.
GPS
Beacon – Infrared, ultrasound or another directional broadcast can identify a corner or barrier through which the unit should not pass.
Radio control
Common Questions asked before buying a robot mower.  
What size lawn can I mow?
From what I have seen there is a direct collation between the price of a machine and the amount of area it will cut. An entry-level machine at around $2000 will cut about 2000 sqft or 600 sqm. This may not sound like a large area but do remember that your sections are not all lawns. By the time you have taken into consideration the house, garage and gardens you may have your section size down by 75%.
The top-of-the-line machines will do a large lawn of up to 16000 sqft or 5000 sqm, and that is a lot of space. If you happen to have a lawn that is larger than that or a large commercial lawn that is not a problem you can pair up two machines to work together.
Flat lawns and sloping lawns.
Robotic mowers are designed to mow up to a 45-degree slope but you will not get this feature with the cheaper machines. If you have a problem visualizing a 45-degree slope (as I do), then you can refer to the image below. It is steeper than you would think.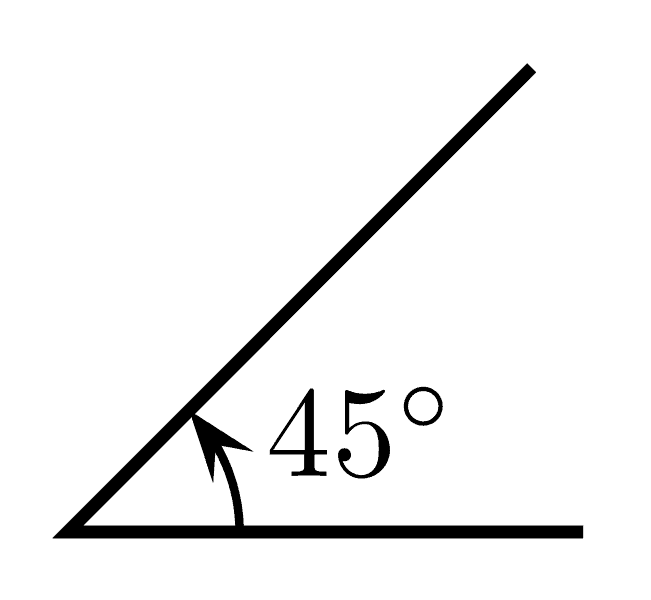 How long does the battery last?
The amount of working time between charges depends on the make and model of your machine and also the temperature (if you have a NiMH battery). Most mowers will run for two to three hours before heading back to the charging station by means of the shortest possible route following the perimeter wire on the edge of the lawn..
Your charging station will need a power source, and it is also advisable to place it in a shady place at the lowest point possible in your garden.
The battery should last for a couple of years before you will need to replace it. Some mowers allow you'll need to replace the battery yourself and some will require going in so a technician can do it.
Here is a video of how Husqvarna mowers work now
The
cons of

 a robotic mower

Edging is sometimes required – Your machine may not be able to get all the edges on the property. You may require a line trimmer to get a perfect finish. To be fair, you cannot get the edges with a push mower either.

You will not be able to get a striped lawn effect – If this is the look you want on your lawn you are not going to achieve it with a robotic mower.

Your mower could get tangled up or stuck – This isn't so much a problem if you are home. You could get a notification on your phone and you can step outside and sort the issue. However, if you are out you are going to have to wait until you get home.

Toys – You will have to get your kids to pick up their toys if you don't want the mower chewing on them. You are going to have to pick up any large sticks or similar items as well. Again you will have to do that with a normal mower anyway but the difference will be that the robotic mower will require this daily, not weekly or biweekly.

leaves in autumn – If the leaf fall is light your mower shouldn't have too many issues if you mow the lawn daily but if the tree does a big dump overnight then you may run into problems. You will need to rake that by hand so your mower can keep on working.

Fruit trees – You will need to keep on top of this as well. If your tree is dropping a lot of fruit you will need to collect it before the mower does.

Hoses – You won't be able to leave the hose out anymore. However, you could go fully automated and get a self-winding hose reel as well.
Dealing with the weather.
Some robotic mowers will not work on rainy days, but most of them will work fine in light rain or drizzle. If the weather starts getting too bad, you can always pull out your phone and send the robot lawn mower home anyway.
From a technical point of view, you should not be cutting wet grass anyway, but as lawn care operators, we don't always get a choice. As long as the blades are not blunt, you should not have an issue. Because the lawns are cut daily, this will also help reduce any damage.
You are probably going to want some sort of cover over your charging station.
You can check out the latest Robotic mowers on Amazon here.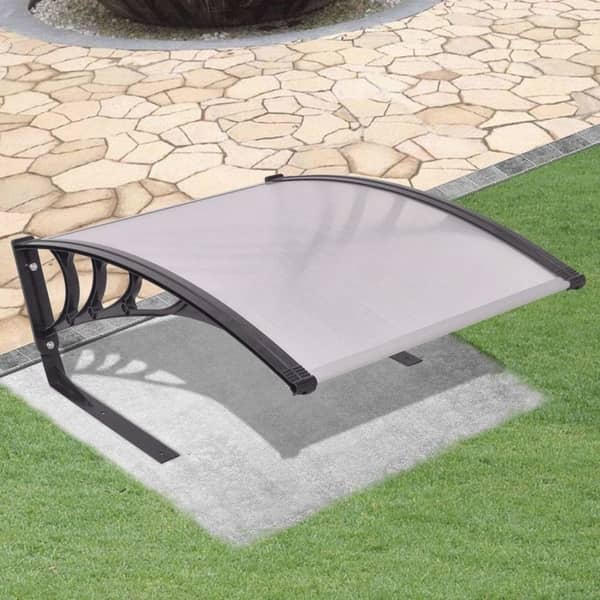 Safety issues
In general, there are fewer accidents with robotic than traditional mowers. You could argue that this is because there are more gas-powered mowers around but the fact is that robotic mowers are safer. They need to be.
Being autonomous and having blades spinning at high speed is a dangerous combination. There is a vast difference between an out-of-control robotic mower and an out-of-control vacuum cleaner. This would have been the first issue addressed when the machines originally came on the market.
According to the US National Library of Medicine, There were an estimated 934,394 lawn mower injuries treated in U.S. EDs from 2005 to 2015, with an average of 84,944 injuries annually. Hopefully, with the right safety features, robotic mowers can bring this number down.
Robotic mowers come with a lot of safety features such as a collision detection system. They also have sensors that will turn the machine off if something comes too close and an orientation sensor that will turn the blades off when the machine is picked up or rolled over.
They also have bumpers that turn the machine when it strikes something so your trees and pets should be safe. If anything is in its path the machine simply bumps into it and heads off in another direction.
They have been running some tests in Finland and have had some safety issues with small children and cats. Here is an article about that but you may need to translate the page. There is also a link there to a safety test that they ran on six robotic mowers in Germany and two out of eight machines failed to detect crawling children. (They did not use real children in the test)
I am not sure that anyone is going to let their children crawl around outside while the mower is running, but there is a simple solution to this any way you could run your machine at night. They don't make much noise and will quite happily work away while you sleep.
How secure are robotic mowers?
If your machine is working at night when fewer people are going to see it that should reduce the temptation for would-be thieves. However, grabbing a robotic mower and running off with it will not be of any use to them anyway.
For starters, the moment they pick up the machine a piercing alarm will sound. They will need to type in the pin number of the machine to stop it. Even if they are mad enough to throw it in the car (alarm and all) and drive off with it would be a pointless exercise as they would need a pin number to start it. They would also be missing all the accessories needed such as the wire and the charging station.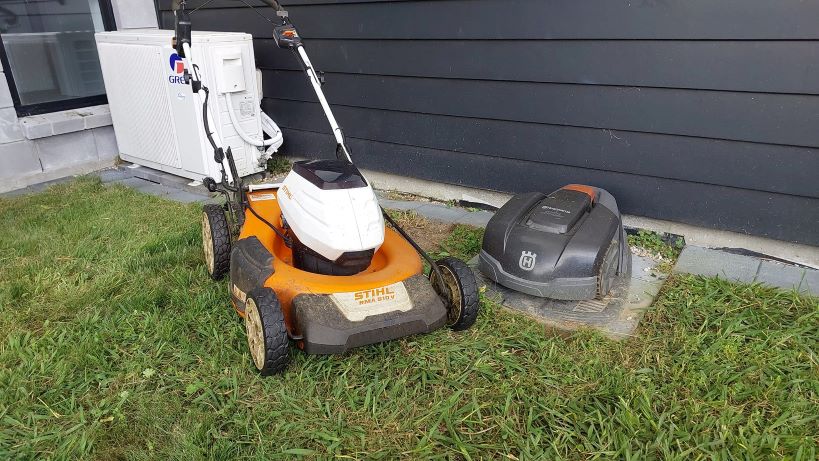 The advantages and disadvantages of using a robotic mower in your lawn care business? 
We will examine some of them here.
At face value, the thought of pacing a robot on a customer's lawn and then charging a weekly fee may sound like a good idea there are some drawbacks. When you look at the investment versus return it still does not quite have the numbers to make it work.
While Most lawn care operators would not hesitate to spend $2000 on a mower, there is one major drawback. A robotic mower will only service one property. A small round of forty clients would require forty mowers, laying the boundary and guide wires. A huge investment of time and money so the return wouldn't be that great.
If you were going to hire or purchase a mower at 5% over three years, your repayments would be around $60 a month. You have lost money if you are charging $700 a year for the job.
I think there could be a lot of advantages in setting up robotic mowers on customers' lawns, but I feel that the price would have to drop below $1000 a unit to make this variable for most lawn care businesses.
Some of the advantages would be
You have a 24/7 worker
You could manage multiple machines one big job using your phone. Husqvarna has a robotic mower fleet service manager.
There is a huge market
It is cheaper than hiring someone
It is hard to find good workers in traditional lawn care businesses and machines just get on and work. 
There is already a lawn care company leasing robotic mowers
The is a startup that is rolling out robotic mowers across the US called Robin. This business started in 2016. They are using a franchise model so it may be an interesting option for an existing lawn care business to explore. The entry-level for this business at the time of writing is around $54K.
This is a link to their franchise page if you would like to read more — Mowbot
Their current charge-out rate for robotic mowers starts at $99 a month.
A new take on robotic mowers
There is another option that I haven't talked about here.
This is an interesting new development by a company that uses traditional equipment but replaces the drivers with robots.
You can read more about that in this article about Electric Sheep robotics. 
Now would you let one of these loose on your lawn? That might be the way of the future.
What do you think?
Grow a six-figure lawn care business
Starting in your spare time
Get tips & tricks on how to grow a profitable lawn care business delivered to you inbox every week.