What Is The Best Commercial Self Propelled Lawn Mower? 2023
Table of Contents
Let's find out…
When I bought my first self-propelled lawn mower I got it wrong. I walked into a shop and bought a machine that looked ok and ticked a few boxes. (and no, one of them was not price)
This turned out to be a bad idea and the machine constantly broke down. It was a rear-wheel drive and it seemed like I was getting the drive fixed every other week. 
One of the biggest issues with self-propelled mowers is that if the drive stops working then you can't finish the job, so you need to make sure that the machine you buy is reliable. By the time you pack everything up, drive to the repair shop, get the mower fixed and drive back to the job, you have lost half a day. 
Within six months I had given up and I got rid of that mower and wrote it off as a bad investment and a very expensive one at that. 
I am writing this so you can avoid going down this road do a little bit of research and at least walk in with your eyes wide open. 
In this post, Im going to cover all the things that I should have checked before I bought that first seif-propelled mower. 
This is not so much a "what is the best mower' post but a post about "what are the best things to look for in a mower" 
So grab your lawn mowing hat and let's embark on this exciting journey together towards finding your ideal mower! 
Key Takeaways
When choosing a commercial self-propelled lawn mower, consider factors like front or rear-wheel drive, engine power, speed control, deck material, bag quality, and wide-cut options.
Some top picks for the best commercial self-propelled lawn mowers in 2023 include the Exmark Commercial X-Series, the Honda HRN216VKA, the Greenworks Commercial 30-inch Self-Propelled Lawn Mower, and the Toro TimeMaster 30-inch Personal Pace Mower.
These mowers offer features like high-powered engines, large rear wheels for easy manoeuvring on uneven terrain or hills (rear-wheel drive), variable speed control for flexibility and precision while mowing (front-wheel drive), durable deck materials (steel or aluminium), high-quality bags for effective grass collection and wide cutting widths to cover more ground efficiently.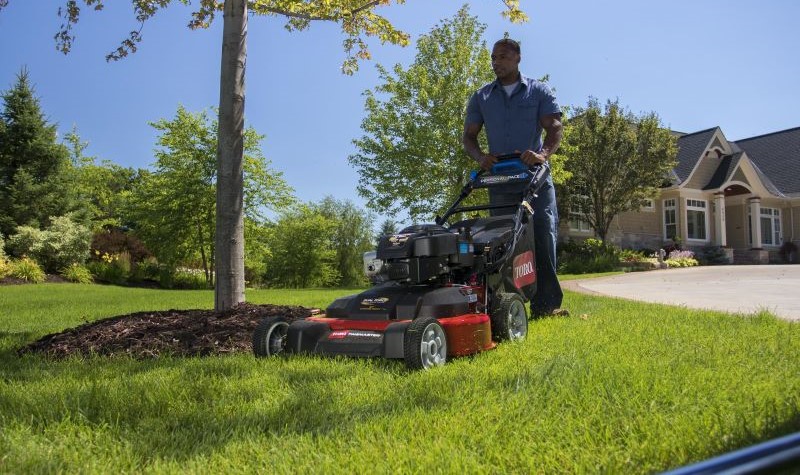 The 30-inch Toro TimeMaster, powered by a Briggs & Stratton 223cc engine, is considered the best large walk-behind lawn mower with 10 ft-lbs of torque but my personal choice would be the the Honda HRN 216VKA which is ranked as the best overall self-propelled lawn mower for 2023.
I am currently using a self-propelled Honda HRX217VKA and it does fantastic mulch lawnmowing and offers excellent cut quality and turf maintenance. I especially like the leaver that can be adjusted to give anything from a full mulch to a full catch. 
The Husqvarna W520 is a commercial-grade walk-behind lawn mower with a 179cc Kawasaki engine and aluminium casing and The Toro TimeMaster 21199 is a top choice for gas-powered self-propelled lawn mowers, offering fast and clean lawn cutting.
Factors to Consider When Choosing a Commercial Self-Propelled Lawn Mower
When choosing a commercial self-propelled lawn mower, there are several important factors to consider. I know that I point out three machines in this post but it will also help you evaluate other mowers too. These are some of the first things I look at when buying a new mower. 
Front or rear-wheel drive?
This is a personal choice. Front-wheel drives are usually cheaper but I think there is a good reason for that. Although they can help with larger lawns or possibly on a lawn with a lot of obstacles a front-wheel drive will give you better steering.
However, I prefer the rear-wheel drive every time. You get more control with a rear-wheel drive and I think this is down to the center of gravity. When you have a rear-wheel drive mower then the weight is evenly balanced in the middle of the mower. This means that as the catcher fulls up you get better traction (not worse). If you are bagging damp grass and your catcher fills up it can actually start making the front of the mower lift in the air. This would be a disaster if you were using a front wheel drive and you would be constantly losing traction. 

Engine size and power
The power of a mower comes from its engine. Big engines give more power. For example, the Toro TimeMaster 21199 has a strong 223 cc Briggs & Stratton engine. This makes it good at cutting grass and working on all kinds of land. I like the Honda engines myself and the HRX range comes with a great GCV200 engine that is more than enough for most mowing jobs. 
Some people like electric mowers because they are quiet and kind to nature. Im still not quite sold on the battery-powered mowers yet, I still see the guys that I know with battery power equipment still end up compromising with things like time in the field and the weather.
Choosing an engine with lots of power can make your job easier. You'll get great results even on thick grass or uneven land. So, think about what you need before buying your machine!
Remember, size does matter when we talk about lawn mower engines – bigger isn't always better! 
I remember when I was doing a lot of reclaim work on overgrown lawns I relied on my trusty Briggs and Stratton 850 series engine. It chewed through those yards. However, I don't do that kind of work any more so the engine is now a bit larger than I need. 
Speed control
Speed is another key factor with self-propelled mowers. It's a funny thing but I always feel like I could be going a bit faster but you need to remember that the machine is mowing the lawn as well as driving the wheels. I have heard of people speeding up self-propelled mowers however I would not advise this as they have a maximum speed for a reason. 
Some of the more expensive models have fractures like speed control options and variable speed controls. 
Some mowers even have cruise control, which lets you set and keep a desired speed.
So, when looking for the best commercial self-propelled lawn mower, don't forget to check out the available speed control options!
And remember it is the speed under load you are interested in, not how fast the mower goes without the blades engaged.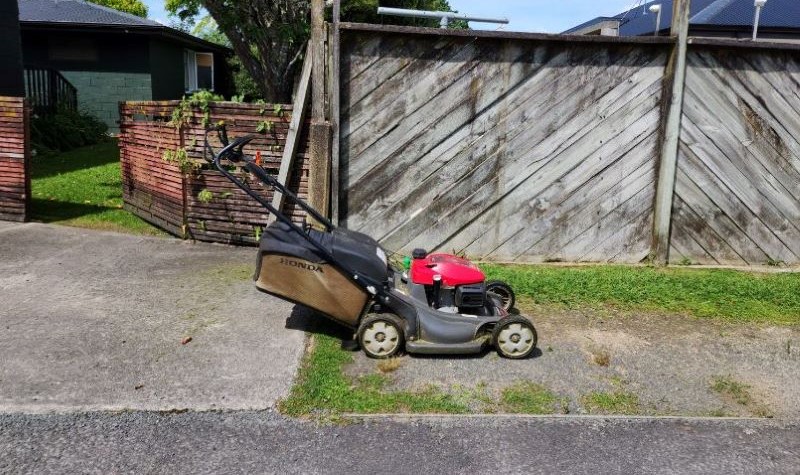 Deck material
The deck of a mower is the glue that holds everything together. The are two main kinds of decks on the market and a surprise third one that you may not know about. 
Steel
The great thing about steel decks is that they are stronger and can handle rough areas or uneven surfaces. One of the downsides of steel decks is that in some areas they can rust. If you live in an area with high condensation or a lot of rain then a steel deck may not be for you.
Aluminium
The best thing about aluminium decks is that they are lighter and therefore easier to manoeuvre. A lot of lawn care operators in my area prefer aluminium decks as they are less prone to rust in the wet weather we get here. 
Plastic.
This third one might surprise you. I have been using machines with plastic decks for over a decade and they are lightweight and easy to manoeuvre. The mower I use now which is a Honda HRX 217 has a plastic deck however you wouldn't know looking at it. 
Funny story
In New Zealand, most of the contractors shy away from steel decks and gravitate towards aluminium decks. However, when I was in Perth Australia and talking to contractors there, they told me that they would never use aluminium bodies there. It's steel every time for them as the sand eats away at aluminium bodies and weakens them. 
Just remember that the body type should be the best for you depending on your location and the conditions you work under. 
Height Control
When looking at height control I prefer options. The fewer options you have the more wear and tear you can expect on the height adjustment mechanism. 
In the early days when I mowed lawns, there was a simple leaver that controlled the height of the complete mower. 
Then the mowers started having one height adjustment on the front and the back of the mower. I liked this a lot as it enabled me to raise the front half a notch and get better adjustments. 
Finally, on the Honda I use now, I have a height adjustment on each wheel. This is great as it totally reduces the stress on the axle and gives you full control of the height adjustment. 
Most mowers cut from around 1.18 inches to 2.5 inches in height. 
Bag quality
Bag quality is an important factor to consider when choosing a commercial self-propelled lawn mower. You want a bag that is durable and can handle the rigours of regular use. A good bag should be made from high-quality materials that can withstand the weight of grass clippings without tearing or ripping.
It should also have a secure attachment system to ensure that it stays in place while you mow. Additionally, a well-designed bag will have adequate capacity to hold a significant amount of clippings, reducing the need for frequent emptying.
I have had both cloth and plastic catchers. I do prefer plastic as I find it easier to keep clean. One of the big factors when you are bagging grass is airflow and plastic catches seem to get the best airflow. The biggest issue I have with plastic catchers is that they always seem to be a bit small. 
The catcher I am using now on my Honda is cloth and it's quite good to use. It's a good size and my machine double cuts the grass so I can get more in my catcher and that is a bonus. 
Wide-cut options
When looking at self-propelled mowers the cut width is also an important thing to consider. The bigger the cut width the faster you will mow the yard. However, a large cutting deck can slow you down in a small yard or a yard with a lot of things to mow around. Also, consider the size of the gates. The larger the mower the fewer places it will fit.
We specialize in small lawns in build-up areas so a 20-inch is the largest I want to go. However, you can find machines up to 30 inches around if you look.  
Bag, Mulch and Sidethrow mowers. 
Another thing to consider is the options available with the mower. Unless we have a specialist lawn care business we all like cutting options. The more the better I say. 
It's much easier to carry around a mower that does both, rather them dedicated mulch and bag mowers. 
Some mowers have mulch plugs. I hate them, they are annoying to carry around and usually get chewed up by the mower at some stage. This is where the Honda HRX excels as they have a mulch lever. Full left is bag and full right is mulch, they even have a few settings in between.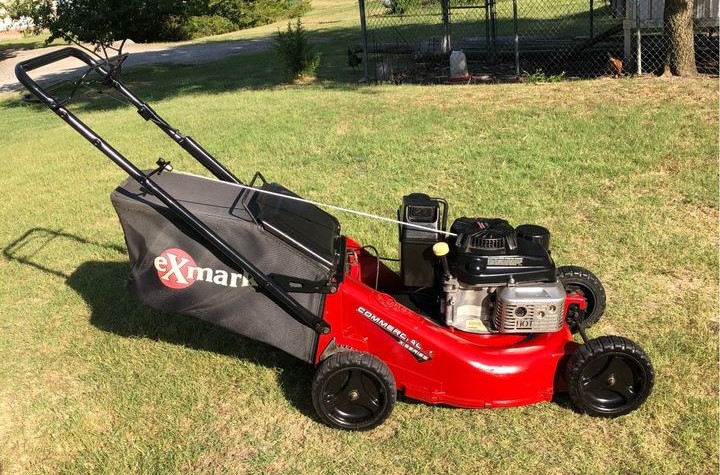 Our Top Picks for the Best Commercial Self Propelled Lawn Mowers
Exmark Commercial X-Series
The Exmark Commercial X-Series is one of the best commercial self-propelled lawnmowers in 2023. It offers a perfect balance between value and performance, making it an excellent choice for buyers. I hear a lot of lawn care operators giving these machines glowing reviews. 
The X-Series mowers come with features like a Deck Support System, Simplified Hydro-drive, and Unibody Frame that enhance their durability and efficiency. They also offer a rear discharge option, allowing for easy disposal of grass clippings.
Both the Commercial 21 X-Series and Commercial 30 X-Series models are included in the list of top picks for this year. Whether you have a small or large yard, the Exmark Commercial X-Series has got you covered.
Toro TimeMaster 30-inch Personal Pace Mower
Toro TimeMaster 30-inch Personal Pace Mower is one of the best commercial self-propelled lawn mowers in 2023. It has Toro's Personal Pace self-propelled drive and Spin-Stop technology, making it easy to control and stop whenever needed.
The mower is powered by a Briggs Stratton 223cc OHV engine, providing reliable performance. It offers bagging, mulching, and side discharge capabilities for versatility. Plus, the Traction Assist feature makes it suitable for areas with uneven terrain.
Overall, Toro TimeMaster is a great choice for buyers looking for a powerful and efficient commercial mower.
Honda HRN216VKA 21-Walk Behind
The Honda 216 is often overlooked but it is one of the best smaller self-propelled mowers on the market. With its Self-propelled, variable speed Smart Drive it is a breeze to use and with the 3 in1 with Clip Director® – mulch, bag, and discharge it gives you plenty of options. This is the machine I was talking about earlier with the Bag to Mulch lever which I now consider a must-have. I can mow a yard and mulch a bit then bag another area without doing anything except using one lever. 
It runs a  Honda GCV170 engine with Auto Choke System and these engines are great. In the last thirty years, I have used every engine imaginable and the Hondas definitely give me the least trouble. 
I use the 217 model which is pretty much the same but weighs less due to its plastic body.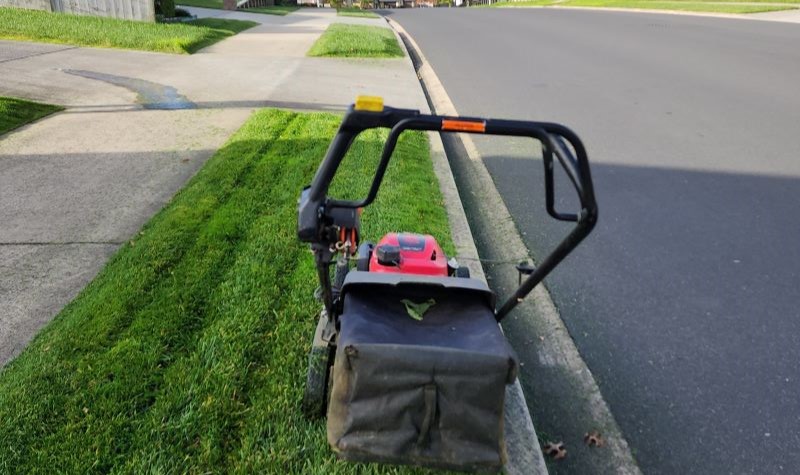 Key specs and features
Here's a breakdown of the key specs and features for each top-rated commercial self-propelled lawn mower of 2023.
| Lawn Mower | Engine Size & Power | Height adjustment | Speed Control | Deck Material | Bag Quality |
| --- | --- | --- | --- | --- | --- |
| Exmark Commercial X-Series | High power engine | Patented Front Height Adjustment | variable speeds between 0 to 4.2 mph | 5″ deep, 1/4″-thick die-cast aluminium. | Superior quality for effective grass collection |
| Toro TimeMaster 30-inch Personal Pace Mower |  Powerful gas engine |  1.25 – 4.25 in. cutting height range. | Personal pace speed control | 30-inch steel deck | Durable bag with good capacity |
| Honda HRN216VKA 21-Walk Behind | Honda GCV170 engine | 7 cutting heights (1″ to 4″) | variable speed Smart Drive | Heavy-Duty 21″ Steel Deck | 1.9-bushel grass bag |
Performance and durability
As a customer, it's crucial to consider the performance and durability of a commercial self-propelled lawn mower. This is one of the main determining factors when choosing the best one for your needs. Please, take a look at the table below where I have compiled the top three commercial self-propelled lawnmowers, along with their performance and durability features.
| Commercial Self-Propelled Lawn Mower | Performance | Durability |
| --- | --- | --- |
| Exmark Commercial X-Series | High efficiency with a wide cutting width and power-packed engine. | Made with sturdy material, it can withstand rough terrains and heavy-duty use. |
| Toro TimeMaster 30-inch Personal Pace Mower | Offers a personalized mowing experience with its self-paced system. High-powered engine. | Comes with a high-quality steel deck and durable tires for prolonged use. |
| Honda HRN216VKA 21-Walk Behind | is a variable speed mower featuring a Smart Drive system, with a 3-in-1 Clip Director for mulching, bagging, or discharging, a MicroCut Twin Blades System for superior cut quality | Boasts durable construction, featuring an innovative Honda design with a heavy-duty 21″ steel deck |
User reviews and ratings
One important element of our selection process was the user reviews and ratings for each mower. We took a close look at feedback from people who've actually used these products as part of their daily routine.
| Brand | Average Rating | Key User Feedback |
| --- | --- | --- |
| Exmark Commercial X-Series | 4.5/5 | Users praised its power and efficiency, stating it reduces mowing time significantly. |
| Toro TimeMaster 30-inch Personal Pace Mower | 4.6/5 | Users appreciated its wide cutting deck, allowing them to cover more ground quickly. |
| Honda HRN216VKA 21-Walk Behind | 4.1/5 | Uses say Variable speed control, superior cut, easy maintenance, reliable Honda engine. |
These ratings and reviews were instrumental in determining the best commercial self-propelled lawnmowers of 2023. Real user experiences provide invaluable insights into a product's performance, reliability, and value for money.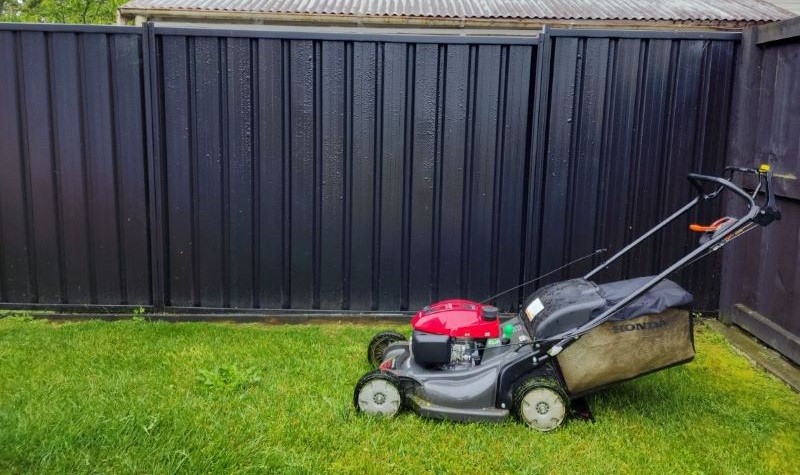 Conclusion
As you might have figured this is not a comprehensive review of one machine against another (I didn't even mention a battery-powered mower) as these things are always changing. Models come and go. Today we are talking mostly about gas mowers but tomorrow it may be time to talk about the coming of age of the electric mower. 
This post covers the things you should always be looking for in a good self-propelled walk-behind mower whether you are purchasing your first mower from Home Depot or you are a seasoned veteran and you prefer to buy off dealers. 
What you are looking for is a good machine with a powerful engine that will be able to tackle tall grass and large yards without any issues. I know that I have my personal preference and this is because of the business model I work. I find that for what I want the Hondas are the best lawn mowers for the smaller yards we mow which can have tight spaces that you would not get a larger mower through. 
If your business model is larger yards and more open spaces then the best self-propelled lawn mower for you could be a 30-inch plus machine. When it comes to choosing a machine there is a wide range to choose from for commercial use if you are looking at wide-area mowers. 
The perfect lawn mower for you will be the one that ticks most of your boxes. Just remember that unlike me with my first self-propelled mower,  you should tick the main boxes first and the right mower will soon become obvious.
A couple of words of warning before I go.
Stay away from big box shops that don't repair mowers as well. Dealers offer a much better choice as they usually have excellent customer service and can get you back on the road quick smart if you have a breakdown. Buy your gear from a local dealer and they will take care of you when you need it. 
Why Buying Lawn Mowing Equipment Locally Is Good For Your Business
Lastly, do a bit of research before you buy. Go online and look at the model of mower you are thinking about buying and do a search for words like "clutch repair" and "gearbox repair". You may find that the machine you are looking at has a bad history in this area. If so, you have just dodged a bullet.  If I had done that with my first mower I would have saved a lot of money and time. 
However, without that story, this post probably would have been a little bit less entertaining. 
Lastly, one thing that I would definitely recommend and it will make your work life a bit better is to put on a good audiobook while you work. These are great because while you are working with your wet weather gear on while listening to a good story, it's like you are somewhere else. I use Scribd for this, the a less the half the price of Amazon and you get unlimited audiobooks. Go here for a free two-month trial. 
Grow a six-figure lawn care business
Starting in your spare time
Get tips & tricks on how to grow a profitable lawn care business delivered to you inbox every week.